Atlas 3DSS' Coins + More Store
First released October 21, 2021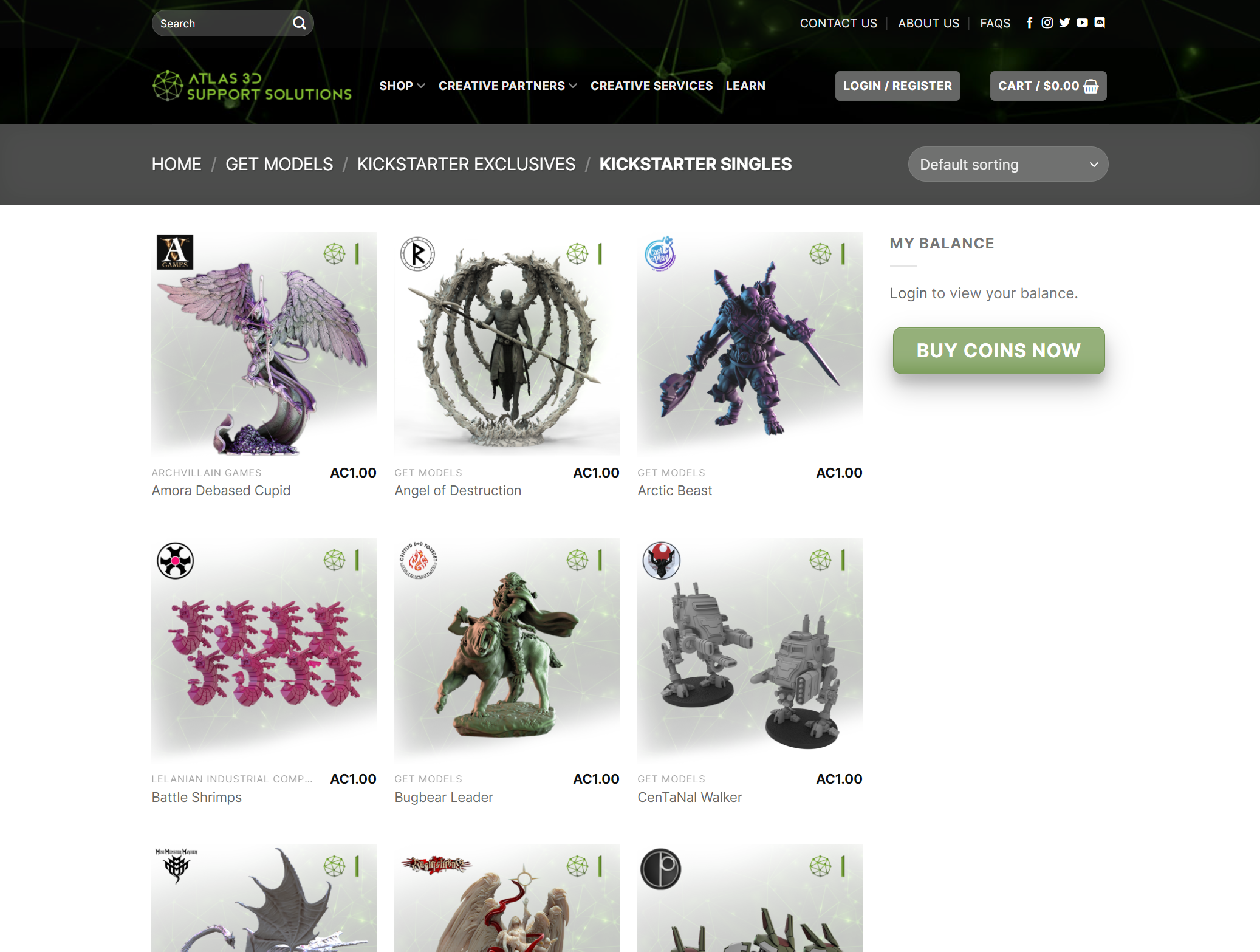 We released the Kickstarter Digital Fulfilment Store for Atlas in August, and although it had a couple of niggles, it stood up really well. It wasn't going to cut it for a permanent solution.
We needed:
Self-service product catalogue
Real money transactions
Token-based transactions
As we'd already discovered, most e-commerce platforms are designed to operate with real money, so have two ways of making choices:
Buying extras with real money
Buying extras with discount codes
So when you need some products to be money-only purchases, and others to be token-only, you have some custom work to do.
Starting early September, we headed down the road of custom development, but one of our good friends suggested a Wordpress-based solution using a loyalty reward plugin. Armed with a little knowledge, we quickly spun up a prototype for evaluation. Huge success. Not only was it significantly cheaper for Atlas than the custom work we'd started, it was also much faster to market.
Over the next week, we stabilised the prototype which allowed Atlas to engage many more of their people to develop the design, add content, build product pages and generally making it look much more like a storefront than the original coin store.
Back at Hyperrational HQ our biggest challenge was ensuring that all the choices people had already made were migrated over. We built a little migration tooling and moved nearly 1700 people over the span of a few days.
We worked with Atlas to update DNS and ensure they had all the tools they needed to be able to control the migration of various other parts of their business.
Need 3D printing resin? Now includes models!
Very flatteringly, Atlas commented on working with us:
Hyperrational was there for Atlas when we found ourselves a bit over our heads and needed fast and effective help with technological development. With very little information and lots of back and forth, Hyperrational was able to help us stand up two sites in the span of just a few months to handle 1.4k backers for our resin KS, along with the troubleshooting and maintenance that goes along with all that entails. That work served as the backbone for building our ongoing business. Hyperrational has remained available for ongoing help too, despite being "done" with the job. When we have any hiccups, even when not directly related to the work they did, they have been helpful and provided us with solutions and advice to troubleshoot and problem solve. If you are looking for a tech dev team, someone to help expand your technological footprint, or you need someone to CTO-as-a-Service, Hyperrational has been great to us, and we would highly recommend them to you.